ARKRAY 4U
Grow Together with ARKRAY
〜 From Business to Financial Support 〜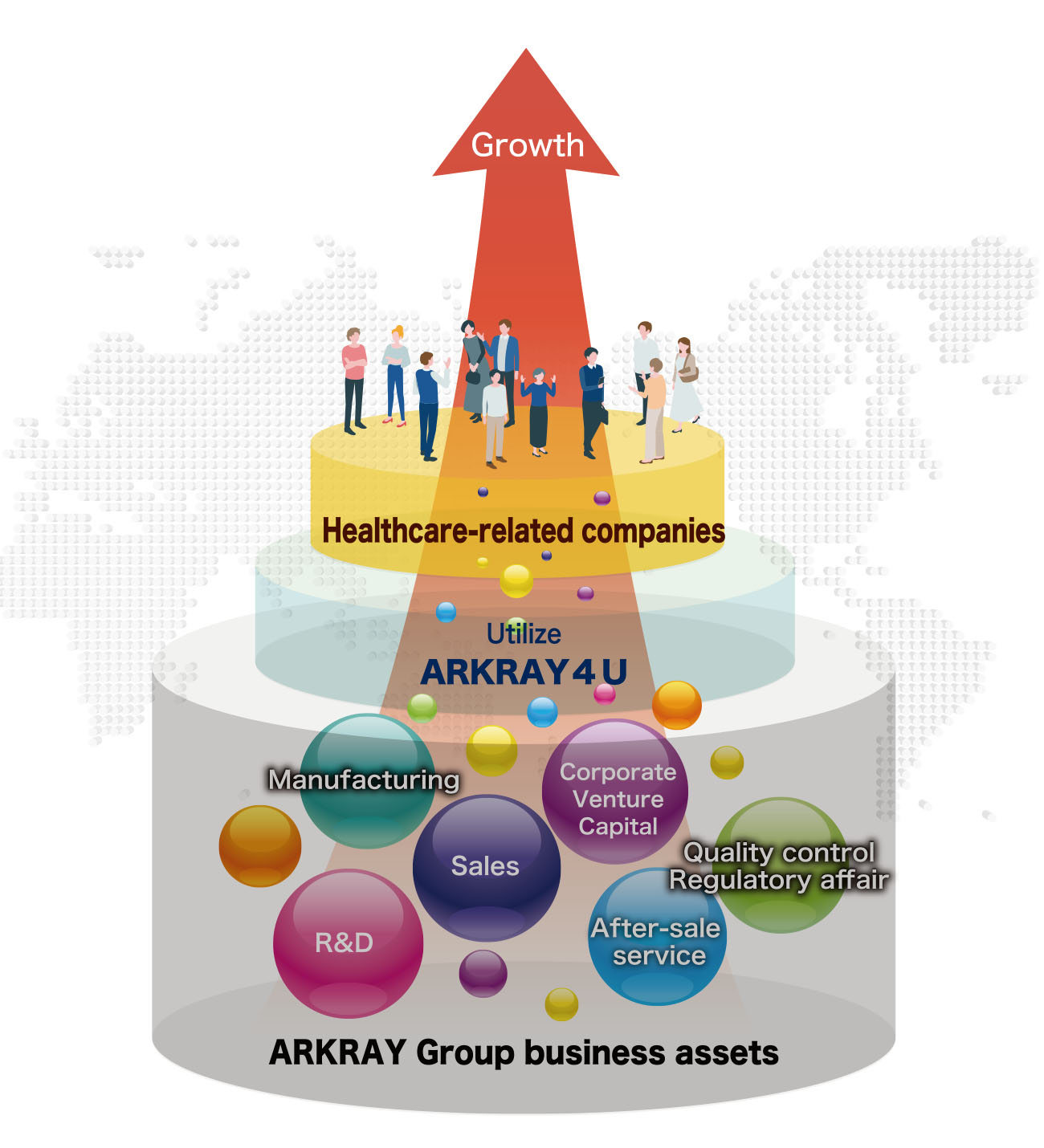 With the speed of technological innovation accelerating in recent years, many companies seeking to develop innovative technologies and services have no choice but to select and concentrate management resources for a variety of reasons.
ARKRAY launched the business support program ARKRAY 4U to extensively support such companies with the aim of improving our society through the implementation of better products and services.
ARKRAY 4U provides medical and healthcare-related start-ups in Japan and the Asia region (including India and Israel) with the following support:
Extensive support for the growth of the companies by leveraging business assets (resources in R&D, manufacturing, sales, supply chain, after-sales service, quality control, regulatory affairs, etc.) owned by the ARKRAY Group around the world.(*)
Financial support through the corporate venture capital business (CVC) of ARKRAY&PARTNERS Pte. Ltd. our affiliate corporation in Singapore. (Our CVC having 10 billion JPY to invest for this purpose)
| | |
| --- | --- |
| (*) | Our portfolio companies can benefit in terms of time and cost savings via ARKRAY's program. |
ARKRAY, Inc. is a pioneer company in diabetes testing, and succeeded in developing the world's first simple blood glucose meter in 1970.
Since then, we have been committed to supporting diabetes treatment and the healthcare professionals who provide guidance, as well as endeavoring to improve patient quality of life for more than four decades. Our efforts have included developing the world's first automated HbA1c measurement device.
We also conduct campaigns to improve public awareness, fostering knowledge about diabetes and an understanding of the environment surrounding the condition.
We currently have sales, manufacturing and development establishments both in Japan and abroad, and deliver our products to more than 80 countries and regions.